THE WALL Season 2 premieres on 

Thursday, June 22 at 9pm ET

/PT on NBC
NBC's The WALL takes guest and it's audience on a  rollercoaster of emotions but in a good way!  The Wall gives and the Wall takes away. One minute you're up and the next you're one bounce away from zero. In this game, you need both the answers and bounces… with millions at stake every night.  However, the towering wall is not easily conquered. Wildly unpredictable, the wall is capable of millions of different outcomes. As the game progresses, the stakes get even higher when one player is sent into an isolation room behind the wall. It is here where the pair's faith in each other is tested as they play the remainder of the game without any communication.
​The Wall comes from:  
Executive Producer and NBA superstar LeBron James,  hosted and executive produced by actor, comedian, author and TV personality Chris Hardwick, and  Glassman Media Executive and Executive producer Andrew Glassman.

The Wall is the fastest and simplest game with more than $12 million on the line every night – and up to $3 million on a single heart-stopping drop. At four stories high, the wall was built for one purpose – to change people's lives.  Tremendous cash prizes are waiting at the bottom but this game can change lives in an instant.  Teammates compete for life-altering cash prizes. The rules are simple: Get a question correct and a green ball falls down the wall and adds the value of the slot to the players' winning total. Miss a question and an ominous red ball falls and deducts the value from the team's total. Teammates have to work together to build a huge cash prize.
We were invited to NBC studios to play a game for our favorite charity on the actual stage of The Wall.  If that weren't enough, Andrew Glassman greeted us and let us in on a secret.  The Wall was created on a simple napkin!  He pitched it to Lebron James and the rest is history.  Talk about success coming from small places and simple ideas.  (Let us never underestimate our ideas.)  Participating kids made signs in support of selected charities and posted them on the stage.  Some of the chosen charities were: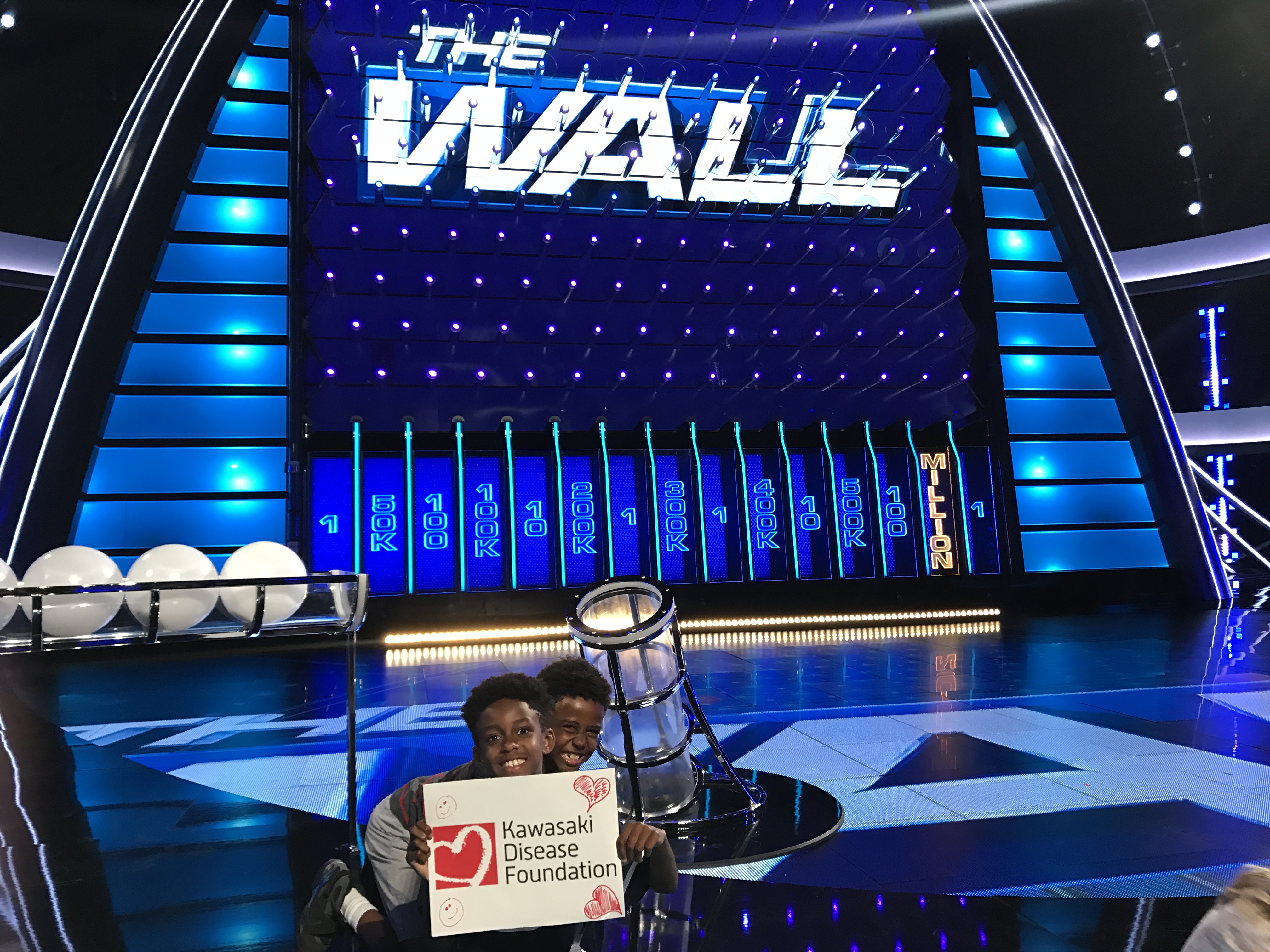 ​
 My guys in support of The Kawasaki Disease Foundation!
NBC ON SOCIAL:
NBC YouTube: http://www.youtube.com/nbc
Like NBC: http://Facebook.com/NBC
Follow NBC: http://Twitter.com/NBC
NBC Tumblr: http://NBCtv.tumblr.com/
NBC Pinterest: http://Pinterest.com/NBCtv/
NBC Google+: https://plus.google.com/+NBC
NBC Instagram: http://instagram.com/nbc
*We were invited for review purposes only.  All opinions and excitement are our own!*
#africanamerican
#africanamericanblogger
#africanamericanboys
#africanamericaninfluencer
#brother
#burbank
#cali
#game
#gameshow
#influencer
#lainfluencer
#lamominfluencer
#lebron
#lebronjames
#losangeles
#momblogger
#mominfluencer
#nba
california
hollywood
la
macaronikidhollywood
MacKidhollywood