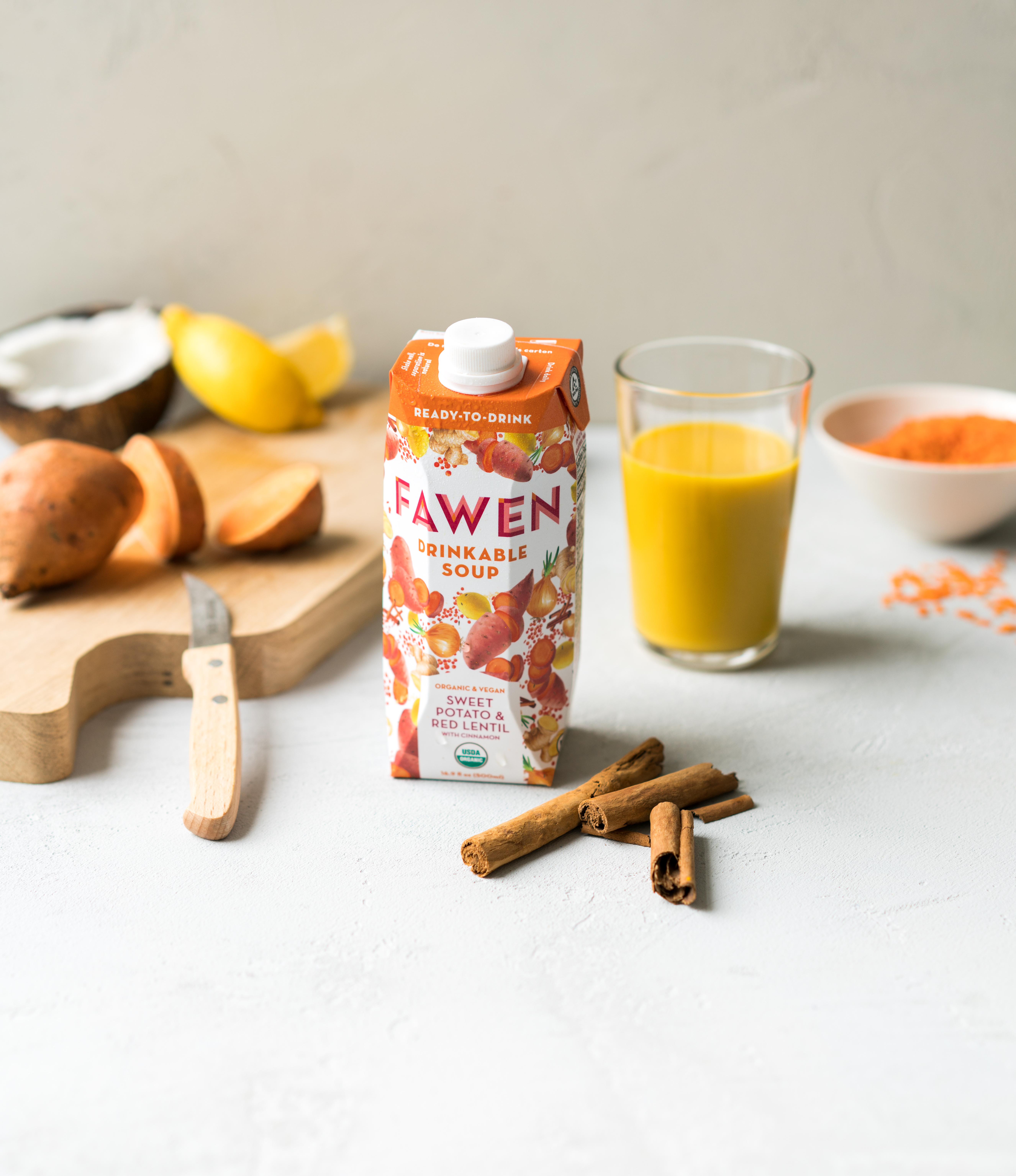 Fawen is a NEW COLLECTION OF REFRESHING, READY-TO-DRINK VEGAN SUPERFOOD SOUPS PACKED WITH PURE PLANT ENERGY.
As you can see from the image, Fawen drinkable soups are packed with goodness.  There are so many vitamins, minerals and antioxidant benefits in every single one.  We all need these due to our busy lifestyles.  Being on the go no longer means eating unhealthy foods.  My allergies were super bad this past month and getting over those left my body depleted.  I felt like I had used all of my stored nutrients to fight off all the pollen in the air that had invaded my body.
It was a chilly morning and my Fawen samples came in the mail.  Talk about perfect timing.  I immediately warmed one up.  I was at home so I poured it into a pot on the stove for about 45 seconds.  It was immediately soothing and gave me a peace of mind knowing that I was putting all organic ingredients into my body.  I felt so much better, I really did.  These are good to have in your desk, fridge, diaper or gym bag.  They are conveniently packaged to twist open and drink up!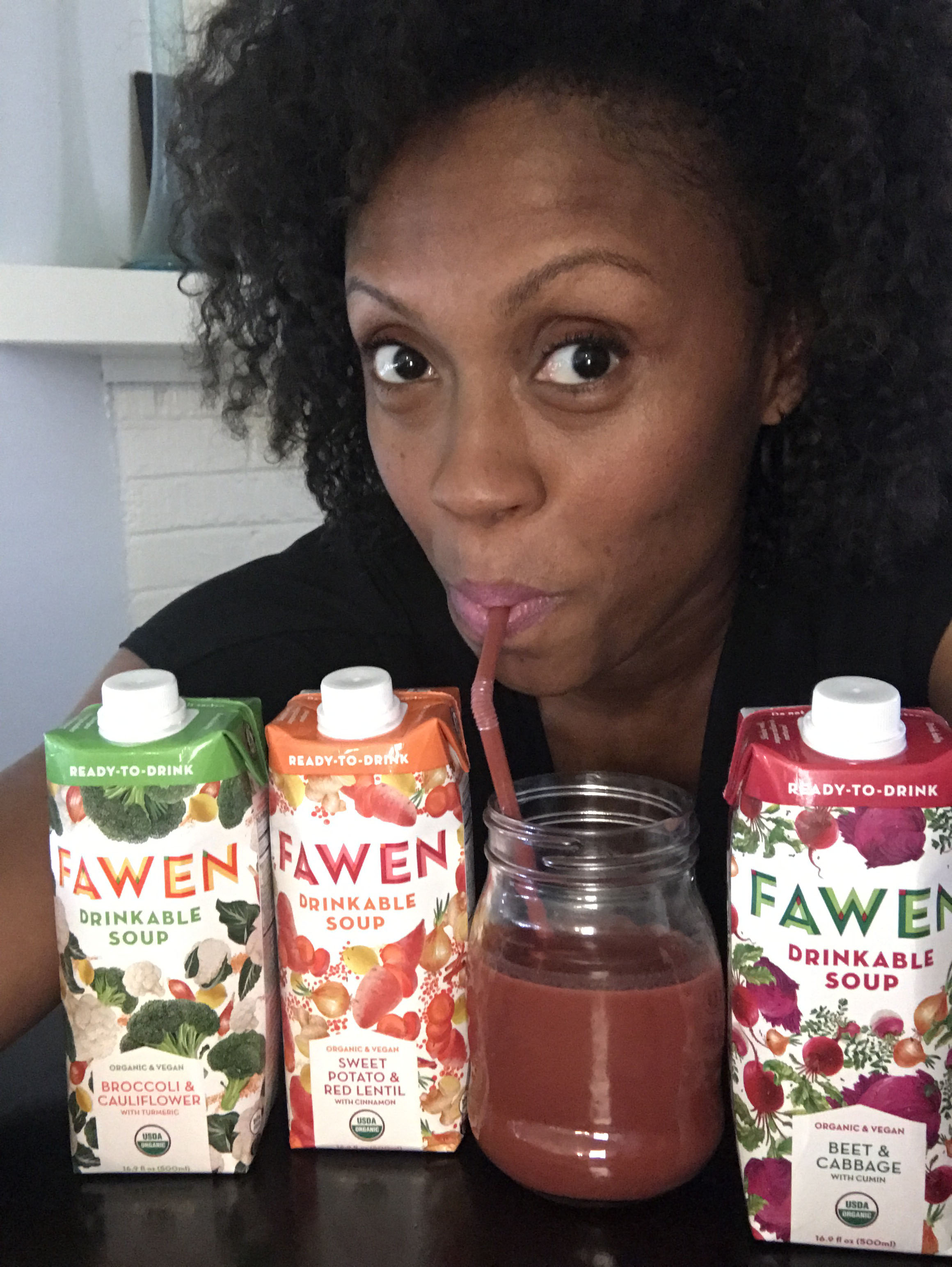 Here are some key features about FAWEN delicious drinkable soups:
·    Three Flavors: Beet & Purple Cabbage with Cumin; Broccoli & Cauliflower with Turmeric and Sweet Potato & Red Lentil with Cinnamon
·    Zero artificial preservatives, sweeteners, additives, cholesterol, and GMO's
·    Fiber from whole vegetables – never juiced or pressed … to help your body feel more regular, when work, travel and life schedules are anything but regular
·    Certified Gluten-Free, Organic, Vegan and Kosher … also certified delicious, regardless of your dietary denomination
·    Loaded with 16 different vitamins, minerals and antioxidant … say farewell to lattes and hello to Fawen to supercharge your afternoon slump or your workout
·    Every batch is made with hydrating coconut water … organic coconut water, coconut milk, and virgin coconut oil work together with filtered water to form the perfect alkaline base and bring balance and vitality to the body and mind
**I was asked to review Fawen for review purposes only.  All opinions are my own.**
XOXO
#beets
#blogger
#brocolli
#cinnamon
#coconut
#drinkablesoup
#fawen
#fawendrinkablesoup
#fawendrinkablesoups
#ginger
#gluteenfree
#goodhealth
#healthy
#healthylife
#healthylifestyle
#influencer
#kale
#kosher
#lemon
#losangeles
#mom
#mother
#organic
#organicfruit
#organicfruits
#organicvegetable
#organicvegetables
#soup
#sweetpotaoe
#vegan
#woman
california
hollywood
la